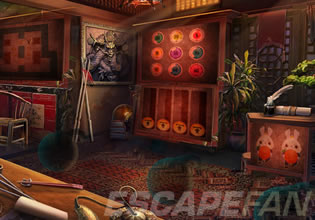 Soldier Boy Escape
A lot of boys are really inspired by the king's royal guards, that's why in this village here there are lot of aspiring soldiers, they even sport armor there which are obviously not real but just for play. Orlando wanted to be a soldier too, but it's too late for him now though, so he just watch the young warriors play-fight with swords and shields. That day though, he will be rescuing one of them, for this one got trapped and it's not just play!
Orlando noticed one of the kids trapped inside a house and he was trying to get out for real, but the door was too strong for him. Okay, okay, Orlando is now there to help him, but he is going to need a little help here as well for the door which was keeping the kid in is kind of complicated to open. Escape players, will you give Orlando a hand here so he can rescue the boy?
Soldier Boy Escape is the newest point-and-click rescue escape game from Games 4 King.
Other games by -
Walkthrough video for Soldier Boy Escape