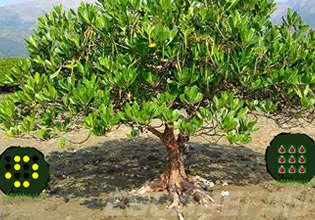 Mangrove Plants Island
Tam works very hard to populate this entire coastal area with mangrove, that's because storm surges are really rampant in the area and it always wreaks havoc to the towns that are near it. He had been doing this for a year now and the result was a full forest of mangroves in the beach area! It is almost like a mangrove land there now and he already lost track of how many he had already planted there. That day, he was out and about in the area trying to gather seedlings for he needs those to plant to other areas, but as he did something happened and it's the first time something like this even occurred!
Tam got lost in his own vast mangrove plantation! That's very weird, guess he had planted so much of them to a point he can possibly get lost there now. Well, Tam needs help here for he seems to be pushing himself further into his mangrove forest as he goes. Escape players, come help guide Tam here so he can get out of the place safely. Carefully then or you'll just push him deeper into there.
Mangrove Plants Island is a brand new point-and-click forest escape game from WoW Escape.
Other games by -
Walkthrough video for Mangrove Plants Island