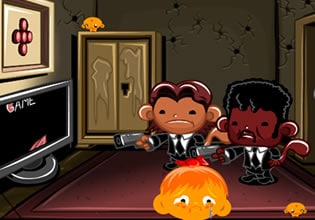 Monkey Go Happy – Stage 585
Monkey planet also have their version of the men in black which was particular in planet Earth, but the organization was present in different parts of the universe though and this one here in monkey planet is one of their branches. At the moment, there was a two-man team men in black trying to uncover something here inside some old house, but both of them let go signals of stresses however, for there were now mini monkeys in the room where they were!
They just busted out of nowhere and are now jumping around! They cannot cover this themselves and as they held, a monkey operative arrives responding to these stresses coming from them! The two operatives knows about the monkey operatives, that's why they were relieved when one came to them, because this is not a part of their job now. Okay now the monkey operative will begin his mission, want to help-out on this escape players so that this can be done quickly? Help in collecting the mini-monkeys here in the room before they multiply uncontrollably.
Monkey Go Happy – Stage 585 is the newest point and click retrieval escape game created by Pencil Kids. This game is a continuation of the previous one as its sequel, and is a part of the first game as the start of the series.
Other games by -
Walkthrough video for Monkey Go Happy – Stage 585