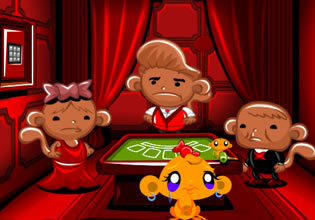 Monkey Go Happy – Stage 730
The monkey operatives detected a new stress signal and it's coming from this structure in a city at monkey planet. The place was a casino and the patrons there as well as the staff are all stressing of the mini-monkeys that are jumping around.
Okay, now the operative's job must be done for these mini things are starting to multiply and that should not happen, for they can do that until they overrun this entire establishment and even indefinitely. Escape players, will you help the operative here with this for there could be mini-monkeys hiding in the crevices of this place.
Monkey Go Happy – Stage 730 is a brand new point-and-click retrieval adventure game released by Pencil Kids. This game is a continuation of the previous one as its sequel, and is a part of the first game as the start of the series.
Other games by -
Walkthrough video for Monkey Go Happy – Stage 730