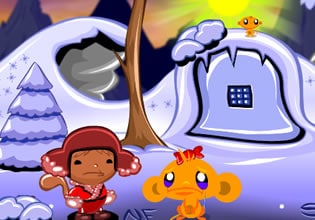 Monkey Go Happy – Stage 597
The snowy parts of monkey planet is calling to the monkey operatives, that's because there is somebody there who needs help and it mostly concerns those mini-monkeys which are quite menacing. An operative have already been sent to the area, and when they got there the one that is having a problem was a big white yeti or something! It is currently trapped though inside its cave, that's all thanks to the mini-monkeys for he got too distracted in catching them there, and as an eventual result the seal on the mouth of his cave got closed.
Okay then, the monkey operative will help him as well, but they have to do what they came for here first and that is to collect the jumping and running mini-monkeys in the area. Escape players, a retrieval adventure here is once again on and this time we are in the snowy wilderness. Will you be able to help the operative there gather every single mini monkey hiding in the snow there?
Monkey Go Happy – Stage 597 is a brand new point and click retrieval adventure game released by Pencil Kids. This game is a continuation of the previous one as its sequel, and is a part of the first game as the start of the series.
Other games by -
Walkthrough video for Monkey Go Happy – Stage 597