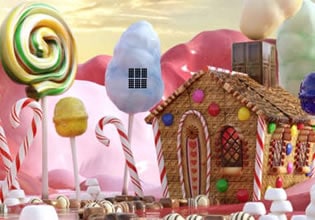 Delicious Land Escape
Vina must travel through the sweets land again for she needs to get to the other town which is before this place. This land here is covered with mountains and mountains of sweets and pastries, and yes this place is magical. Even though the place is beautiful and all, Vina is not really keen on venturing there too often for there is always a price to pay when people goes there, even more so when they actually try to take a bite out of the sweets that's there. But Vina has no choice really, she needs to pass through there for she needs to get to the town quickly. Well as she expected she got lost in there and the place wins again!
Vina is now circling around the place trying her best to find her way like she does so before when she gets in trouble there, but this time the trouble seems to be worst for she had been trying her best to escape for a while, but unfortunately she couldn't. She thought this problem is now much serious than her experiences before and that's why now you need to help her escape players. Will you be able to help Vina here so she can get to where she needs to be?
Delicious Land Escape is another new point and click sweet wilderness escape game made by Games 2 Rule.
Other games by -
Walkthrough video for Delicious Land Escape