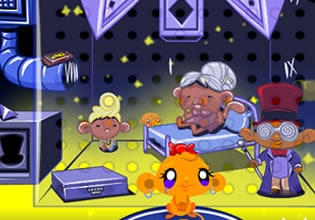 Monkey Go Happy – Stage 595
The monkey operatives are detecting signals of stresses coming from beings who are being tormented by surely, them mini-monkeys again. But what's weird though is it's coming from a different dimension but in the same location where they are detecting it right-now, and that's in this dimension even. And so the operatives worked hard to track that signal down by analyzing the strength of it until they found the exact point.
The signals was coming from this weird place which was hard to explain. Maybe it's a 4D place? Well whatever this is there are indeed mini monkeys there as the operative who have been sent saw it. The place is weird, but there are monkeys there too which were now definitely stressed thanks to these bouncing mini-monkeys. Okay then the operative must work and accomplish what he have been sent here to do. Want to help escape players so that the operative can then return to HQ?
Monkey Go Happy – Stage 595 is the newest point and click retrieval escape game created by Pencil Kids. This game is continuation of the previous one as its sequel, and is a part of the first game as the start of the series.
Other games by -
Walkthrough video for Monkey Go Happy – Stage 595