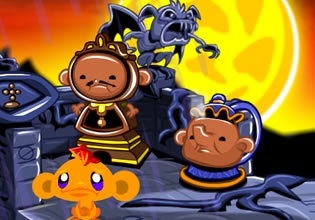 Monkey Go Happy – Stage 675
The monkey operatives have been once again called in monkey planet to aid someone in of course having trouble with the mini-monkeys and also with something. Escape players, we will be joining the monkey operative here who responded to what looks like Belle and the beast from Earth! But they are in monkey version of course and right-now, they are having some trouble with the mini-monkeys running around the castle.
Belle is on the task to change the beast to his original monkey form but the mini-monkeys are getting in her way, that's what is stopping her and needs help from. Okay now escape players, will you assist the operative here in collecting every single mini-monkey so that Belle can finally carry-out what she needs to do?
Monkey Go Happy – Stage 675 is a brand new point-and-click retrieval adventure escape game released by Pencil Kids. This game is a continuation of the previous one as its sequel, and is a part of the first game as the start of the series.
Other games by -
Walkthrough video for Monkey Go Happy – Stage 675