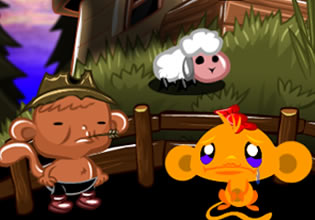 Monkey Go Happy – Stage 673
Another signal was detected by the monkey operatives and it is coming from a lone farm in the wilderness at monkey planet. And so an operative arrives there and quickly, they picked the situation up. Mini-monkeys are now around and are disrupting the ways of life there. Some of the residents needs help there for the mini-monkeys have really affected them.
Okay then, the mini-monkeys must be taken from the area and it must be each and every one of them. Escape players, would you like to help the monkey operative there as they do their job quickly? Help the other residents in the area as well with whatever their troubles are.
Monkey Go Happy – Stage 673 is the newest point-and-click area retrieval game created by Pencil Kids. This game is a continuation of the previous one as its sequel, and is a part of the first game as the start of the series.
Other games by -
Walkthrough video for Monkey Go Happy – Stage 673