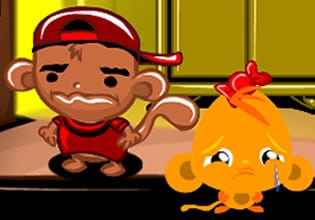 Monkey Go Happy – Stage 613
The monkey operatives have caught signals coming from monkey planet again and of course, an operative was sent there right after. The location was in some theater or something where people are currently gathered. Well, the operative does not care about that, it needs to do its job or those little things will multiply out of control and probably destroy this place then. Maybe the operative can help with other problems there too if he is going to be free and not to be called back by HQ as soon as possible.
Escape players, once again an operative is at work here in a place at monkey planet, but because this is a place which has a lot of crevices and nooks to hide in, he is going to need some help so he can gather them all without missing one, and of course doing all of that as quickly as possible. Will you be able to help then and see this task done successfully?
Monkey Go Happy – Stage 613 is the newest point-and-click retrieval escape game created by Pencil Kids. This game is a continuation of the previous one as its sequel, and is a part of the first game as the start of the series.
Other games by -
Walkthrough video for Monkey Go Happy – Stage 613