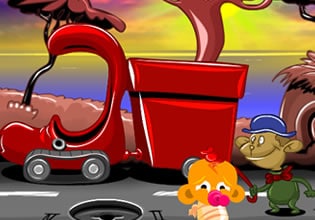 Monkey Go Happy – Stage 611
In some fantastic place which looked like it came from a Dr. Seuss storybook art style, there are beings there who are having some trouble with those mini-monkeys! The monkey operatives detected those distresses even from very far away, and they quickly sent their available operative then. As this one arrived, the location seems to be on a highway and there was a simian there who has a red truck, he looked calm but the operative can sense his stress. Well no wonder, for there are a few jumping mini-monkeys around and this simian here have seen them before, he knows they are no good when they get too many.
Escape players, the monkey operative shall do the works here now, but will you help him for he is only suppose to be excellent in closed spaces? The handicap is the area here is vast and he is a baby. Will you help him collect these monkeys so that Mr. Simian can finally leave with his vehicle?
Monkey Go Happy – Stage 611 is a brand new point-and-click retrieval adventure game released by Pencil Kids. This game is a continuation of the previous one as its sequel, and is a part of the first game as the start of the series.
Other games by -
Walkthrough video for Monkey Go Happy – Stage 611