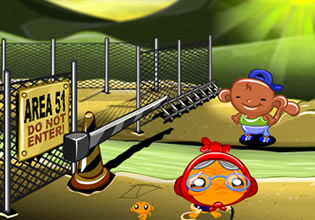 Monkey Go Happy – Stage 671
Grandma operative have already arrived on monkey planet's very own area 51. They have such a place like the one one Earth, but there is a reason an operative is in the place though, and that's because of the mini-monkeys that are currently now ravaging the place and are even starting to multiply!
Escape players, grandma operative needs to do her job here now for if they become significantly numerous, then they have the real potential of destroying the place where they are. So this needs to be done now. Will you be able to help then before more of the mini-monkeys emerges?
Monkey Go Happy – Stage 671 is the newest point-and-click retrieval game created by Pencil Kids. This game is a continuation of the previous one as its sequel, and is a part of the first game as the start of the series.
Other games by -
Walkthrough video for Monkey Go Happy – Stage 671