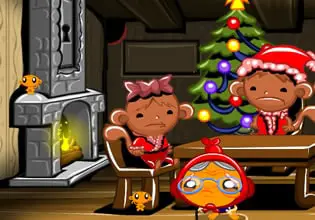 Monkey Go Happy – Stage 583
Christmas was also actually being celebrated in monkey planet! Although there were some slight differences apart from the human world, it is almost pretty much the same. There was this one family however as the celebration occurs which was not happy, in fact they were even stressed and that was detected by the monkey operatives. Of course they came then for the stresses were specific and it's all about those mini monkeys!
Upon surveillance, the stresses were actually indeed from the mini monkeys and almost immediately an operative was sent there. These mini monkeys are just everywhere and the operatives HQ doesn't exactly know where they are coming from and why monkey planet was being invaded at the moment. But rest assured the monkey operatives are here to help. Escape players, why don't you come and help here as well? Join the monkey operative and help in the collection of the mini monkeys here in the home of an innocent family who were just enjoying the celebration. Look into every nook and cranny in the house here and be quick with the task.
Monkey Go Happy – Stage 583 is the newest point and click retrieval escape game created by Pencil Kids. This game is a continuation of the previous one as its sequel, and is a part of the first game as the start of the series.
Other games by -
Walkthrough video for Monkey Go Happy – Stage 583