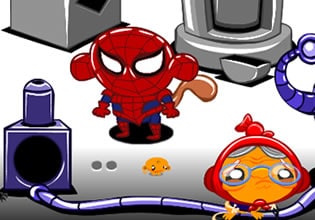 Monkey Go Happy – Stage 599
In another dimension where spider monkeys exists, the operatives detected stress-levels from there. They actually managed to get to that location, well this should not be too bad for these spider monkeys are not really the ones that can be found on earth, but they are more spider men from this same planet!
And so the monkey operatives have journeyed through dimensions just to get there, as they arrived it was only then they saw how severe the situation was, for where these mini-monkeys are menacing were spider monkeys from what seems to be from different dimensions and there was even an open portal there! This is not good, for portals such as this opens to who knows where, and mini-monkeys are here which is it is very likely that some of them have already went in there. The monkey operatives must not pass this job up though, for they can still cause some severe damage here. Escape players, the monkey operatives will worry about the ones that have escaped later, first they need help with collecting the ones that are on the loose, so will you help them?
Monkey Go Happy – Stage 599 is the newest point and click retrieval escape game created by Pencil Kids. This game is a continuation of the previous one as its sequel, and is a part of the first game as the start of the series.
Other games by -
Walkthrough video for Monkey Go Happy – Stage 599