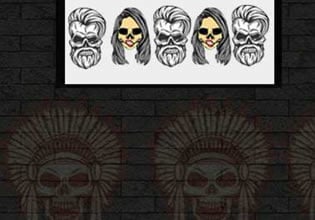 Ancient Fort Escape (Games 2 Mad)
The room where Brandon is now was once an ancient fort, but it got renovated throughout the generations and most data about it have already been lost through time. That day though, Brandon was determined to find the hidden information in there which wasn't spotted by researchers before, he thinks he can find something and he is going to do all he can for it. As Brandon was doing his thing though, something happened and it's bad enough for Brandon is alone in there and he'll have to face it all himself!
The rooms there just got locked and now he could no longer get out! Brandon have no idea what happened and how it happened, it just did and it was sudden. Brandon is starting to feel scared of the place now, for not only there were scary fixtures there but also some potential curses! One thing that could tell that so is when he got mysteriously trapped in there. Escape players, there is a whole lot of stuff that can explain this happening, but he can't focus on that now for this is really concerning him. Will you just help him escape here and make a different approach on to this occurrence?
Ancient Fort Escape is a brand new point and click indoor escape game from 8b Games and Games 2 Mad.
Other games by -
Walkthrough video for Ancient Fort Escape (Games 2 Mad)