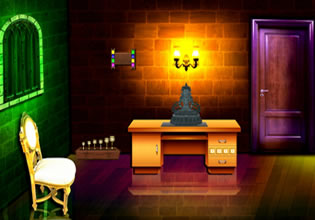 Stone House Escape (Nsr Games)
You only heard of a stone house from a children's literature when you were younger. It said owls live in stone house and it was better to live in a wooden house if you could maintain your humaneness. Since then you always wondered what it meant. But as you grew older, you began to understand the statement through experiences. You thought you'd only encounter the stone house in that literature. However, you didn't know that your next destination would be a stone house. It was built a long time ago and researchers were looking into the strength of its materials. You also began wondering about it as you ran your hand on its walls. The caretaker did a good job of taking care of the place. You felt like you were back in the olden days when places like this still held royal occasions.
You had no idea about the schedule of the researchers there. So you just took your time in exploring the stone house. Its rooms still held a bit of history with them. It seemed like you could feel what took place in that specific room. You closed your eyes and began to picture yourself being there. Then you heard a bang which meant the closing of the doors. Play Stone House Escape (Nsr Games) room escape game by NSR Games.