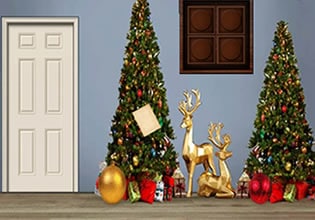 Modern House (Nsr Games)
It's Christmas and this house here have been decorated by such for the celebration, but it's not only that though for this place is also now ready to trap people in it! One reason for that, it's because this place is not really a normal house, it looks like that but the purpose of this is different. The true aim of this house is to really give people escape challenges, and for the day one of the individuals there who was a helper elf of Santa will take the place on.
That helper elf is Kim and she is now ready to take the place's challenges which were now definitely ready for her. Will she be able to escape from this place easily? For it is rumored that Santa's escape houses are pretty difficult to solve. Well then why don't you help Kim here escape players, see to it that she escapes from the house the fastest by tackling puzzles there that's on the way quickly and get through obstacles smoothly like a hot knife through butter. Ready yourselves for more too for there will definitely be.
Modern House is a brand new point and click indoor escape game released by Nsr Games.
Other games by -
Walkthrough video for Modern House (Nsr Games)