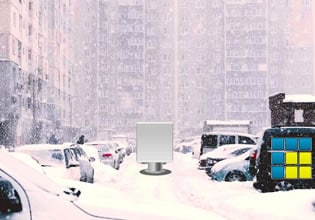 Snow Street Escape
You just wanted to see the snow piling in the streets at the city so you wore your coat and left your place just for a bit and visited the area. You came to the city and then you saw how much snow had really piled, it was so much more than the previous years, maybe you'll be enjoying more of the cold as well as the snow there for a bit. But little did you know trouble was already looming for you and it only became apparent when it finally came!
You roamed around from city block to city block until, you finally got lost there! You tried to get back to familiar places but unfortunately you couldn't, for the people who walks by to and fro in a fast pace were confusing you and even the snow was actually giving you some trouble, for it now covers most landmarks there and that definitely is not helping. Escape players, imagine you are in this situation here and you need to get-off this city area and back to familiar streets. Will you be able to and calmly in this really cold weather? Find the path back then and think carefully of which one you will be proceeding into.
Snow Street Escape is another new point and click city escape game made by Games 2 Rule.
Other games by -
Walkthrough video for Snow Street Escape