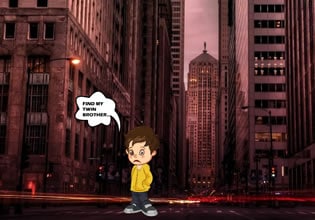 Twin Boys Street Escape
Edison and Edmund managed to escape their apartment here and ventured into the city! That's all despite of their mom saying that they cannot do something as reckless as that. But it's already done though and they are both out and about in the busy and heavily lit-up streets there. Well actually they are out, about, and in trouble! For because of their unquenchable curiosity, Edmund got trapped in this weird cell in an alley they found and now Edison is left here to rescue his twin brother!
Edison have no idea how he'll solve this, he didn't even expect this happening and he fears asking help from anybody there for he thought if he does that then their mother will eventually know what they did here. Well it looks like nobody else can help these two but you escape players, will you help them then for this seems like a serious situation? Quickly and get Edmund out from that cell there then for there is a chance that this thing belonged to a gang or whatever. Carefully now and make this rescue for the kid quick.
Twin Boys Street Escape is a new city rescue escape game developed by Games 2 Rule.
Other games by -
Walkthrough video for Twin Boys Street Escape