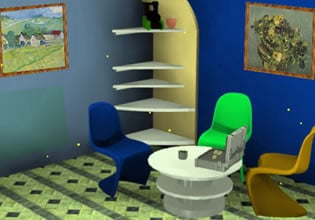 Raspberries Room Escape RE
The room here where Theodore is at has a color closely resembles raspberries, that's the first thing he observed and that could be vital for his escape here. Theodore is currently is inside the place and he is trying to get out from the place! The house here is actually an escape house and before he took it on, he was asked to memorize some stuff and then he was let in. He wished he had closely looked at it and memorized it even more, for he thought now that those could be vital.
At the moment, Theodore is only roaming around the rooms there looking for clues and items that he can potentially use here. So far there is nothing significant for him to use and still the door is locked. He can only recall a few stuff from what he saw and he thought those that he remembered are definitely not enough. Escape players, you are now Theodore here and the situation is for you to solve so that escape can be possible. Will you be able to accomplish such and quickly?
Raspberries Room Escape – RE is a new edition of old flash games created by Ainars for Escape Fan. Explore the house and find all raspberries to unlock mini-safes. Solve all puzzles to unlock some doors!
Other games by -
Walkthrough video for Raspberries Room Escape RE