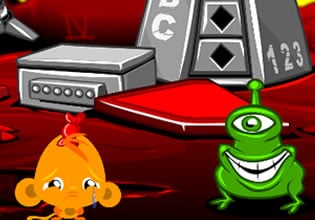 Monkey Go Happy – Stage 545
The monkey operatives detected some serious stress levels from a planet very far away and it's known to be a bit ruthless there. The place has a nickname, and that is gladiator planet and it's not just called as that for nothing. The planet is home to hardened gladiators and even women there fight for entertainment. They are technologically advanced though, but they never strayed from their traditions though of fighting. Well the operatives are heading there and in no time, a monkey operative is there now to do the job.
Mini-monkeys are scattered there as well in the rocky plains of the planet and that is getting the gladiators frustrated. Well one for their tech is of no use to capture the little orange things, and two is that they multiply very quickly and are kind of immune to some good old fashioned whacking. Well guess nobody can blame them if they can't get it done, for jobs like this is the specialty of the monkey operatives. Escape players, as always the operative needs a little help here, will you be able to assist for the gladiators hare currently not so relaxed about this?
Monkey Go Happy – Stage 545 is the newest point and click retrieval escape game created by Pencil Kids. This game is a continuation of the previous one as its sequel, and is a part of the first game as the start of the series.
Other games by -
Walkthrough video for Monkey Go Happy – Stage 545