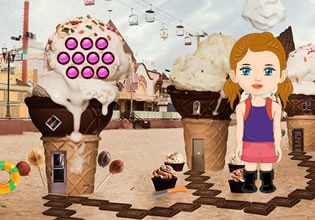 Twins Candy World Story
The place here is definitely the work of some enchanted things, for the said place which was a wilderness is made of all sweets and there is not a single thing there that is not made of such! Everything is edible there even the ground and it will all taste like pastry! What a place this is definitely, but for now it remains a secret and only two children knows about it, for these children have accidentally stumbled upon it when they were collecting berries in the forest near their home. That day, they returned without telling no soul what treasure they found, now they can enjoy all day indulging with everything there sugary! But there will be a little problem though and because there is nobody else there but them, the only help they can get is from you escape players!
The two girls were so distracted with the sweets there that they managed to lose sight of each other! And plus they are now lost! Escape players, Okay then looks like one of them is even in some trouble there, will you be able to help them so they can go back home together safely?
Twins Candy World Story is another new point and click sweets wilderness escape game made by Big Escape Games.
Other games by -
Walkthrough video for Twins Candy World Story