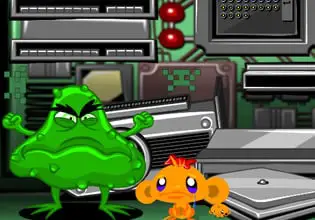 Monkey GO Happy – Stage 543
This time, the monkey operatives will go minuscule for something strange happened when the scattered mini-monkeys encountered something in a place which seems to be of technical proportions. The mini-monkeys went even smaller in size thanks to that something they encountered! Now they are very small and are even roaming around that said technical place which looked like a circuit board or something, and now they are starting to wreak havoc there! Luckily the monkey operatives have everything in their arsenal for missions like this, and that includes being as small as an ant!
The monkey operative who was sent shrunk to the size of which it can do its job there, as he arrives in the place he immediately saw this green blob or something and it seems to be very mad at everything. Weird, maybe mad at the mini-monkeys for invading its place? Well it doesn't look like a computer virus though, not even a real virus too. It looks more like an amoeba or something, but that's not the concern now, the monkey operative must do its job here in gathering them mini-monkeys and escape players, you will come to help here. Gather all the mini-monkeys from this place before they multiply and invade this circuit board which might then destroy whatever this thing is supplementing.
Monkey GO Happy – Stage 543 is a brand new point and click retrieval adventure escape game released by Pencil Kids. This game is a continuation of the previous one as its sequel, and is a part of the first game as the start of this long series.
Other games by -
Walkthrough video for Monkey GO Happy – Stage 543