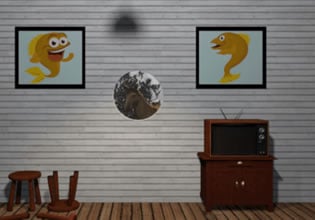 Bad Memory Escape – Wooden Room
Leslie woke-up and found herself in a room in some wooden house not familiar to her at all! She started thinking carefully for she might have forgotten again where she had been. It seldom happens to her especially when she wakes-up, now it might be happening again and worst is she is it happened not in her home and there is nobody with her at the moment! Leslie is experiencing an amount of stress now and she is trying her best to keep calm, she needs help now for being lost in a place alone and she has no idea why she is even there is very scary. Would you like to help Leslie escape from where she was escape players?
Leslie seems to be trapped inside the house which was weird, for if she had stayed there and it's not against her will, it wouldn't be. That pushes her more to get out of there so right-now escape players, your skills and logic are very important here to escape. You all ready now? Come and check this challenge here then and make haste with this, before something happens here in this mysterious place and that might hinder you all to escape.
Bad Memory Escape – Wooden Room is a new room escape game created by Ainars for Escape Fan. Examine each location of the house, search for items and memorize puzzle hints. Unlock the gate in the end for the final escape!
Other games by -
Walkthrough video for Bad Memory Escape – Wooden Room