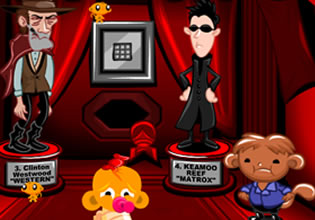 Monkey Go Happy – Stage 720
Somewhere in monkey planet, there is a place called the wax house and there are weird models there made of the substance. That is where the monkey operatives are detecting stress signals and as quickly as they can, they sent an operative to check. When he arrived, he immediately saw the wax models there, a few visitors, and a bunch of mini-monkeys running around!
These mini-monkeys are the ones that are causing the stresses and they must be retrieved quickly for they can multiply to serious numbers and overrun the place. Escape players, this might not come easy for the operative, so will you help him then in getting this task done for the sake of the monkeys there?
Monkey Go Happy – Stage 720 is a brand new point-and-click retrieval adventure game released by Pencil Kids. This game is a continuation of the previous one as its sequel, and is a part of the first game as the start of the series.
Other games by -
Walkthrough video for Monkey Go Happy – Stage 720