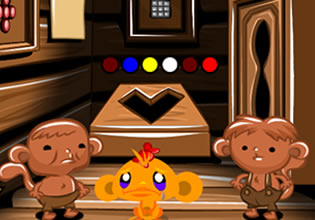 Monkey Go Happy – Stage 681
The next signal of stress the operatives have detected is still from monkey planet and it's coming from multiple victims. The operative was sent to the location immediately and what they found there were indeed a bunch of uneasy monkeys and a raging rainy weather! The operative must work through this still despite of the major disturbance, for the mini-monkeys are highly impervious to anything and not a little raging rain would stop them from what they want to do.
Escape players, you will now be helping the operative here in collecting all of the mini-monkeys that are scattered around the area where he is. Will you be able to help him on this task even under raging weather?
Monkey Go Happy – Stage 681 is the newest point-and-click retrieval escape game created by Pencil Kids. This game is a continuation of the previous one as its sequel, and is a part of the first game as the start of the series.
Other games by -
Walkthrough video for Monkey Go Happy – Stage 681