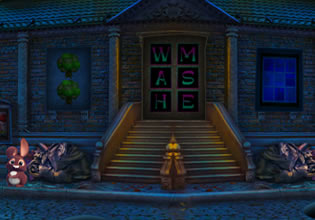 Mermaid Warrior Escape
The mermaid warrior is one of the creatures here in the town who joined the great battle before just to save the place, now thanks to them the town had been in prosperity for years and the townsfolk there are joyous. This mermaid warrior is relaxed now even, he became mischievous yet funny and he always dresses as a pirate there, probably he wanted to be sarcastic for pirates hunt mermaids until the ends of the earth for a buck.
As the warrior's friend, Jack knows that his friend would love to have those adventures of long ago again, for this kind of lifestyle for him really dulls his edges. But guess he'll have a little bit of that today, for Jack found him trapped in his own house and now he is trying hard to escape! Jack thought something is definitely wrong here, for he knows his friend is hard to capture and yet he is trapped in his own place. Escape players, Jack is suspicious but he will still help here, would you like to help as well so that captain mermaid warrior here can be freed?
Mermaid Warrior Escape is another new point-and-click rescue escape game made by Games 4 King.
Other games by -
Walkthrough video for Mermaid Warrior Escape