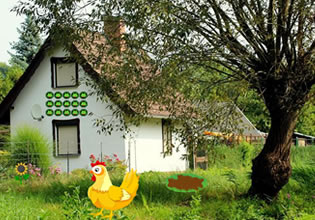 Find My Boy Friend
This land here is peaceful and serene, that's why the town is kind to everything especially to their animals. As a townsfolk there, Geraldine is definitely a good person, and an observant one too. That's how that day she noticed the slight difference in her hen's behavior and it seems down but fussing.
Eventually, Geraldine figured it out that this hen could not find its rooster partner, and come to think of it Geraldine could not find him also. Did he just mysteriously vanish? Being taken by somebody is not very likely here for people are all respectful and good, that's why this could point to something different. Escape players, would you like to help Geraldine here find her rooster somewhere for she really doesn't know where to start? Bring him back to his hen wife then so they can be together again.
Find My Boy Friend is a brand new point-and-click retrieval rescue game from WoW Escape.
Other games by -
Walkthrough video for Find My Boy Friend