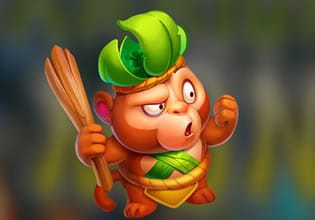 Warrior Monkey Escape
The warrior tribe near the town is a monkey warrior one! They are the last of their tribe really, for at times they can be aggressive as well as bitter and people really push them to the brink of extinction. But the town here wants to preserve them though for they are only protecting their own and that's why they don't meddle with them and even helps in preserving them. As a resident in the place, Danny have never seen any of the monkeys there for he was warned not to go in their area. But that day it seems that he will finally see them, for there was one that got stuck in one of the houses there in the town!
Danny found one of them warriors inside the house there when he was out cleaning outside. This monkey warrior was definitely trapped in there and looked to be still young. Finally, he get to see a monkey warrior for the first time, and he even needs to rescue it too! Danny is going to get this warrior monkey out and delicately for they are easily startled. Escape players, will you help Danny here with this so he can get this done as carefully as he can? Be ready then, for a monkey warrior even though young can still hurt people.
Warrior Monkey Escape is a brand new point and click animal rescue escape game from Games 4 King.
Other games by -
Walkthrough video for Warrior Monkey Escape