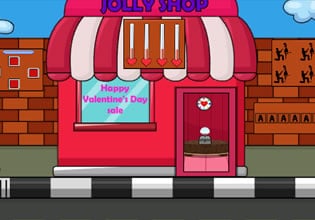 Find The Valentines Ring 2021
Manny is thinking of a good gift for his girlfriend and at first he tried to find a nice cake but he thought it wasn't enough, so he looked for a good jewelry for her and he is really having a hard-time with that, for finding the perfect one is kind of hard. Manny was thinking of something when suddenly a woman came to him and asked of what he was thinking, it was kind of weird but Manny answered. As convenient as things be, the woman has one ring which will definitely be perfect for her, but there was a problem with that for she can't open the box where she kept it.
The woman told Manny that her ring was definitely beautiful, but she can't open the box so she told Manny that if he can find the key to it then she'll happily give the ring to him! It sounds too good to be true but it is, even then Manny is having his suspicions but still, he'll try. Escape players, Manny is just going to find something which can open that box and see the ring, that key to it should be somewhere in the area as told to him by the woman, will you help him on this so he can see or even get the ring?
Find The Valentines Ring 2021 is a brand new point and click item retrieval escape game from Games 2 Jolly.
Other games by -
Walkthrough video for Find The Valentines Ring 2021