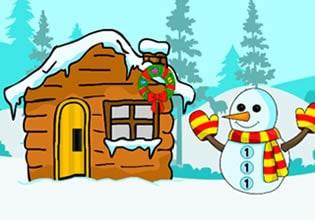 Happy Christmas 2021
Daniel is expecting a happy new year now, well that's because this Christmas day had been awesome despite of the heavily falling snow in their area. There was even a challenge people can take-up and that's to find specific items, the one who will finds them will win something good. What interests Daniel on that though were the special items, that's because something quite big will be won if those are found. Okay, guess he'll take that on and for him he is going to find a depiction of baby Jesus while he is in the manger.
Okay, that might be easy, but he shouldn't forget that the item is special and he will have to go through difficult challenges just to get to it. Daniel needs to be ready now as he is finally up to find it. Escape players, Daniel might need extra help here for he just knew that nobody were able to finish these special challenges yet, that's when he thought how difficult this challenges could be and he might not make it. Will you be able to help Daniel here so that he'll win and his Christmas shall be very much merry?
Happy Christmas 2021 is a brand new point and click item retrieval escape game from Games 2 Jolly.
Other games by -
Walkthrough video for Happy Christmas 2021