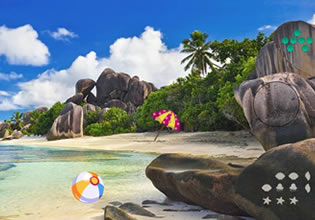 Escape From Silver Beach
The silver beach is absolutely a paradise, nobody knows exactly why is it called as that, some say that the beach was once filled with silver coins and that's where it got its name from, others say that there is a huge deposit of silver ore there waiting to be tapped. Well, people living near there don't like the latter happening, that's why the place remained pristine as ever. That day, Eric was in the beach for he was trying to figure-out if the coins thing is true, but instead of finding that he found something else and it's kind of an inconvenience.
At first when Eric realized he was now lost in the place he didn't really think much of it, that's until it became not too easy for him and he really needed help there. Escape players, for Eric it is really nice to get lost in paradise here, but he needs to be back where he's suppose to be for he has a lot of errands to fulfill, would you like to help him then so that he can get back to that?
Escape From Silver Beach is the newest point-and-click coastal escape game from Games 2 Rule. 
Other games by -
Walkthrough video for Escape From Silver Beach