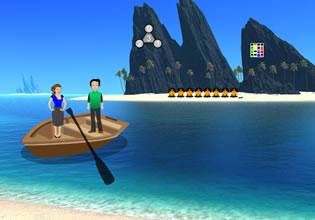 Thanksgiving Beach Party Escape
The thanksgiving party where Jim and Dianne went is being held at the beach and it's the first-time their family did this. Through the hours, everyone had fun and the party is now slowing down, Jim and Dianne will now be attempting to go home for they actually helped on the party before it even started and they are getting quite tired. Little did they know getting home from the resort is not going to be easy.
Jim and Dianne are going to need something now, for they can't move the boat which they are on and in other words, they can't leave the place! Escape players, want to help the couple here with their problem so that they can finally leave and take their rest?
Thanksgiving Beach Party Escape is the newest point-and-click coastal area escape game created by Games 2 Rule.
Other games by -
Walkthrough video for Thanksgiving Beach Party Escape