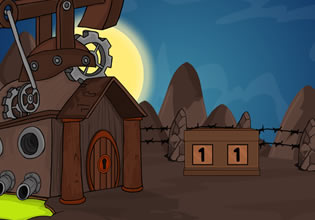 Chief Scientist Escape
There is this secret old lab in the mountains where a group of scientists from different parts of the country converge and make secret experiments. That is not ethical really and a bit illegal for the place where they are is not regulated and pretty much dangerous, but it is all for advanced studies which needs to be done.
That day, there were only two scientists there for the others have already left, that's the chief scientist and the 2nd in command who was Nelson. Nelson was finishing-up a mini experiment when he heard a call for help from the chief, he doesn't really call for help but when he does it could be serious, well it is and Nelson is going to have to deal with that now! Escape players, want to see what happened to the chief scientist here? Go ahead then and see if you can help Nelson with that too.
Chief Scientist Escape is another new point-and-click rescue escape game made by Games 2 Jolly.
Other games by -
Walkthrough video for Chief Scientist Escape