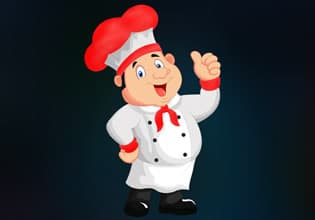 Chief Cook Escape
Being a chef during these dark times in the town have gone difficult, finding exquisite ingredients have become close to impossible, but there are still people around so the chief chef who was Orv will still roaming around the place finding ingredients as best as he can to maintain his shop. He knows this will not last but he needs to keep going, for if he stops then what will he do then? But that day though something is going to happen to him and it will be because he ventured ever more deeply in the dangerous part of town just to complete his list.
As the chef's assistant, you really need to get out now and search for him, that's because he hasn't returned for hours now and that's just unusual. Escape players, you are the chef's assistant here and you are already having a bad feeling about this. Will you be able to find the chief chef Orv and if he is ever in trouble will you be able to help him? Be ready then, for who knows what's in store for you here now in the town which are just waiting in the corner.
Chief Cook Escape is a new outdoors rescue escape game developed by Games 4 King.
Other games by -
Walkthrough video for Chief Cook Escape