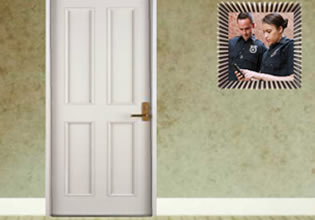 Daniel Police Escape
Daniel who was Myrna's close-friend's brother arrives at her home for the first time in years, Myrna's friend was so happy that she invited her to come meet him. Myrna is a little bit cautious though, for this guy is a loyal officer and had been away for years, she doesn't want to think badly about him but she just thought there might be more to it than just him visiting.
Myrna arrives at the house and what she found there immediately was her friend scrambling! She really thought this was it, her thoughts were correct, but as she asked her friend though she told her that her brother got trapped in a room there and she is trying her best to find stuff that can open the door. Okay, that's normal, but still a little bit weird for her. Escape players, you will now be playing as Myrna here, will you be able to get your friend's officer brother Daniel out from where he is trapped?
Daniel Police Escape is the newest point-and-click indoor rescue escape game created by 8B Games.
Other games by -
Walkthrough video for Daniel Police Escape