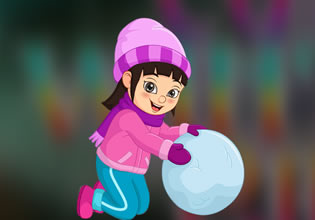 Cute Winter Girl Escape
Winter is coming and the children there in the village are rather excited. There was this one girl in the village who was already in attire and she has the right to do so, for the weather is starting to get cold but mysteriously, some kids there are already forming snowballs! Weird, for snow haven't even fallen yet. As a curious resident, Curtis went and followed the children just to see where they are getting the snow, but instead of finding some answers though, he will come to find someone in trouble and he will be rescuing them!
Curtis found this girl who was already in winter clothes and she is trapped in a house there! Of course Curtis acted, for a kid needs help here. But he still could not shake the fact where they are getting the snow though, maybe he'll find-out after this. Escape players, Curtis is going to help the trapped girl there, will you assist as well so that the kid can be safely freed?
Cute Winter Girl Escape is another new point-and-click rescue escape game made by Games 4 King.
Other games by -
Walkthrough video for Cute Winter Girl Escape