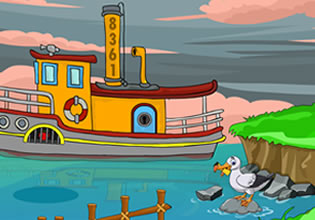 Boobies Bird Escape
Casper lives in a coastal area here and it has its advantages and disadvantages. A main advantage was he can get fish for free from the ocean, he has a ship and that's even greater! One of the disadvantages however was he kept catching them booby seabirds in his trap, and that day he has one again.
Casper really wanted to catch the wild fowl that are roaming in the place, but as always those booby birds get inside his trap first and that seals his fate of not catching any wild fowl that day, that's if he doesn't check his cages sooner. Escape players, Casper is going to get another one of those seabirds out of his cage again, will you help him then by finding the key to the trap so it can be set for a better catch?
Boobies Bird Escape is the newest point-and-click animal escape game created by Games 2 Jolly.
Other games by -
Walkthrough video for Boobies Bird Escape