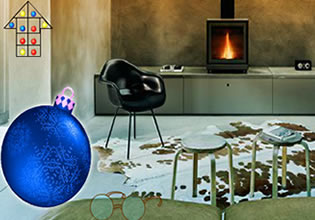 Christmas Ball House Escape
Try your best on this escape adventure here in a house decorated with different kinds of Christmas balls. Christmas Ball House Escape is the newest point and click indoor escape game created by Games 2 Rule for another fun escape adventure with us!
Stephanie is taking-down her Christmas decorations and she really thought it would be easy, it was easy putting it up but it seems harder to take-out. That day Stephanie was really having a hard-time trying to gather all the Christmas balls for there are numerous of it around her house and in different sizes. Stephanie still had some outside her house but little did she know that it is going to be a bit of a problem, for something happened and she could not understand how or why it even occurred.
Stephanie's doors wouldn't open and it was even enough to stop her in rounding-up the Christmas balls! Great, another thing here among other things that she needs to finish. Escape players, want to help Stephanie here figuring-out this problem and quickly too for she still had a lot of Christmas balls to gather? Find clues then on what had happened and also, locate some vital objects too which can rectify that problem.
Other games by -
Walkthrough video for Christmas Ball House Escape