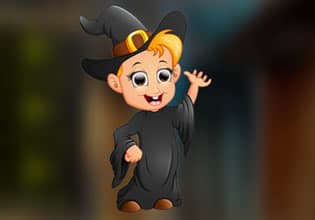 Cheerful Sorcerer Escape
The sorcerer here who lives in the village needs to be very careful with his spells, for he can be a little bit of scatter-brain at times and his spells would backfire on him. The village people already made something to make him swear that he would be very delicate and careful with his magic, well he complied to that but the problem is in-order for him to progress as a sorcerer, he needs to perform them spells even if it is risky. So even though it gets the people there in the village uneasy, there is no other way really but to perform the spells which he haven't mastered yet. But that day though as he did, this time it backfired on him!
The sorcerer whirled a spell and then poof! He was now trapped in his own bastion and he couldn't get out from there! The sorcerer definitely asked for help then, but it seems there is nobody around. He can't just bust-out another spell there, for this one just affected him, he fears that if he does something again then that could backfire too and make the problem a lot worst. Escape players, well there is nobody that can help the sorcerer here, will you bother in doing so? For each and every moment that he is not active, the more the village is not protected from foreign attack. Get the sorcerer out from where he is trapped then with the items you can find.
Cheerful Sorcerer Escape is the newest point and click rescue escape game from Games 4 King.
Other games by -
Walkthrough video for Cheerful Sorcerer Escape