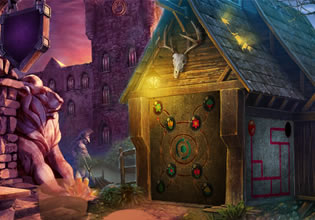 Cheerful Vampire Escape
The one that is protecting this village here is a vampire! How fascinating is that? For vampires are kind of like evil and people don't want to do anything with them, and also because vampires hurt people. But not this vampire however, for he was kind and he really brings the hammer on people who would come to hurt the resident there or destroy the village as a whole. As a resident there, Rudolph who was friends with the said vampire noticed that their protector didn't come last-night, so he tried to search for him. Little did he know he will find him in trouble and needs help!
Escape players, Rudolph found the vampire trapped in a house there and he couldn't get out! It was a bit weird for him for this guy has super-strength, he can bust himself out of there. But he thought maybe he was holding-back for he doesn't want to destroy someone's property there? Well, Rudolph is going to rescue him there, will you help him so that the vampire can be freed?
Cheerful Vampire Escape is another new point-and-click rescue escape game made by Games 4 King.
Other games by -
Walkthrough video for Cheerful Vampire Escape