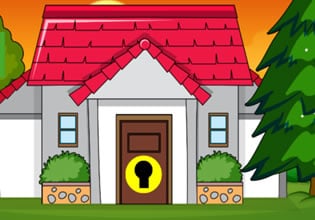 Baby Suffolk Sheep Escape
Carlos' farm there is now very stable for it had just been passed down to him for generations. Carlos can only do repairs there in the old house now and maintenance around the farm facilities, also adding new animals there too. That's why Carlos got these new breed of sheep here which even came from far away. These sheep are Suffolk and one can tell for their skin is black, he got three and he will raise them so he can produce more of them in the future. Carlos now faced a new day and it's time to take care of the chores in the farm, he will begin by releasing his three young Suffolk sheep to the field so they can graze, but there was an issue with that though for he could no longer find his key to their mini pen!
The three sheep are now looking at him and he can tell they already want to get out, but he cannot find his key here and that is an issue for not only he'll get delayed with his chores here, but also his sheep cannot go to their daily processes sooner. Escape players, want to help Carlos here find his key to his sheep pen so they can go and roam around the fields?
Baby Suffolk Sheep Escape is the newest point and click animal escape game from Games 2 Jolly.
Other games by -
Walkthrough video for Baby Suffolk Sheep Escape