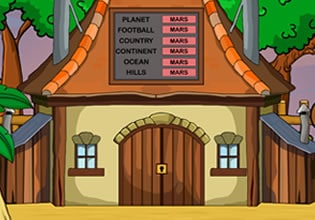 Sheep Escape From House
There are a few of these goats and sheep of Maverick's that were unruly and well even so he has to live with them for he needs every single one of them here for he lives in a remote area. Those unruly ones however he tends to keep them in their houses for longer, for if they go with the herd they tend to lead them away from him and he and his dog are going to have to work harder just to keep them all in line. One day though when Maverick was rounding his sheep up together with the unruly ones, he found one of them trapped inside one of the houses there!
That's what it gets for being unruly, now he needs to get that creature out of there. Well even though where the sheep was trapped was a house he also constructed, he could not find the key to it and that sheep is not getting out of there if he doesn't find that thing. Eventually he is going to have to get that creature out of there, so he is going to do that now while he was relaxing. Escape players, will you help Maverick here then in somewhat rescuing his now trapped sheep?
Sheep Escape From House is the newest point and click animal rescue escape game from Games 2 Jolly.
Other games by -
Walkthrough video for Sheep Escape From House