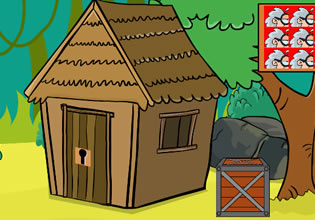 Baby Monkey Escape From Hunter
You visited old man Jack that day again who lives in his small forest house just a kilometer away from your place. He is getting old and constantly tired now so you just come to take care of whatever he needs done every day just to give him some help. That day as you arrive in his place again, you found him in-need of some help and it was something not so typical.
Old man Jack has a new pet and it was this baby monkey! That's pretty different indeed, but the creature cannot get out of the cage though for it is locked and Jack cannot simply find the key which was missing and free it. He has tried as he said so, but his back is not really keeping him up. So it's up to you then to help him here, will you be able to assist him with his new pet so it can finally move about?
Baby Monkey Escape From Hunter is the newest point-and-click pet escape game created by Games 2 Jolly.
Other games by -
Walkthrough video for Baby Monkey Escape From Hunter