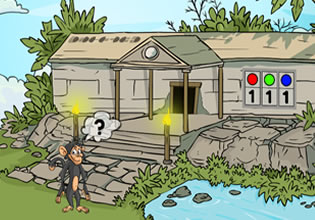 Rescue The Baby Monkey Part – 1
There was this one creature which got lost after it entered through a weird portal in the forest. It was a young monkey and the place where it is was mountainous. The young primate was very confused, for what creatures it saw there were not very normal. What this monkey saw were the mythical kind and it is very much scaring him!
Escape players, this is definitely not the monkey's place and he now wants to return home. Will you help him then? Try to find this portal which was hidden somewhere in this place. Quickly with this rescue too before these mythical creatures capture him.
Rescue The Baby Monkey Part – 1 is a brand new point-and-click animal rescue escape game from Games 2 Jolly.
Other games by -
Walkthrough video for Rescue The Baby Monkey Part – 1