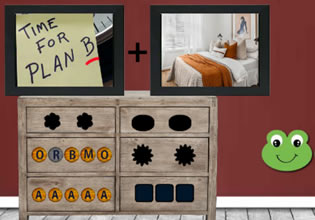 Green Witch Escape (8b Games)
There was going to be a new costume party in the neighborhood and Roy who is a resident is going to go, he also invited his friend which he didn't hesitate to accept. But Roy's friend though is going to bring another person and that was his grandma! She will be dressing-up as a green witch and that really blew Roy's mind, for his friend's grandma never really do stuff like this. Roy wanted to see how will his friend's grandma do this, overall make-over? Or just simple dress-up? So Roy went to his friend's house but instead of finding some costumes there, he will find a problem.
Roy's friend was trying to open this door for his grandma was actually trapped behind it! Roy absolutely didn't expect to find this, but he will help here for his friend was having a problem there. Escape players, want to help Roy here help his friend get his trapped grandma out? Find the key to that door then which was locking grandma in.
Green Witch Escape is a brand new point-and-click indoor rescue escape game released by 8b Games.
Other games by -
Walkthrough video for Green Witch Escape (8b Games)