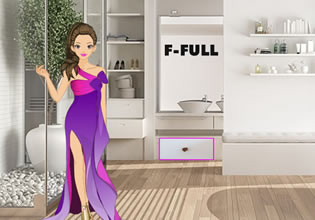 Cover Girl Room Escape
As Dara's make-up artists, you were the first one to be there at the venue which was in a luxurious house for she will be having a photo-shoot there. The only two people in the house at the moment is you and Dara, the photographers and other staff will be coming shortly but as for you though your job begins. Everything was okay at first and relaxed, that's until you heard Dara call for help inside the room there and she sounded concerned.
Dara is trapped in the room where she was changing! This really puzzled you a bit for you didn't quite understand why she got trapped. But Dara needs help there now and of course you are the only one who can help her now. Escape players, you are starting to realize that it's not just Dara's door is locked, but the others in the house as well. Something weird and puzzling is definitely happening here, if it's something serious then you must both get out of there now. First, will you be able to get Dara out so you can then deal with the other things in the house?
Cover Girl Room Escape is another new point-and-click indoor rescue escape game made by WoW Escape.
Other games by -
Walkthrough video for Cover Girl Room Escape