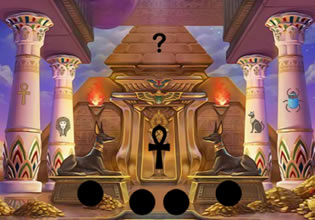 Queen Penguin Escape
In this other dimension way back in ancient Egypt times, such an empire also exists here in this plane, but the ruler of it at the moment is not one to be expected. The current pharaoh there is a female penguin and at the moment she needs help for she got trapped in this cage!
You haven't seen a situation like this escape players, and as a person who is here in this other dimension, you need to help her there for if her generals finds-out about this then their army could engage the enemy in an instance of pointing fingers. Escape players, you now need to free this queen penguin so an investigation can begin to find-out who really did this, after all this could just be a very strange accident and lives are on the line for that.
Queen Penguin Escape is the newest point-and-click rescue escape game from 8B Games and Games 2 Mad.
Other games by -
Walkthrough video for Queen Penguin Escape