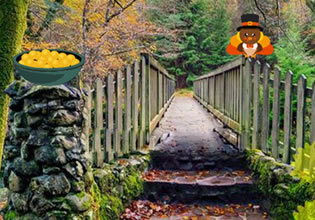 Emoji Turkey Couple Escape
The thanksgiving celebration have just commenced and the turkeys are now running around the place trying to enter this fantasy land where they are safe from hunters. One of them that needs to be kept safe is this emoji turkey. This creature is a turkey but its face is an emoji!
This being needs to be kept safe from hunters and it should be in the said fantasy land right-now. But it still hasn't arrived up to this moment and as the gatekeeper of the land, Lombard is having a bad feeling about this. And so at some point, he couldn't take it anymore and left his post at the portal! Escape players, Lombard is now going to go and find this emoji turkey wherever it is so he can bring it to the portal where it'll be safe. Care to help in finding this creature and quickly too before it's too late?
Emoji Turkey Couple Escape is a brand new point-and-click wilderness animal rescue escape game released by Big Escape Games.
Other games by -
Walkthrough video for Emoji Turkey Couple Escape