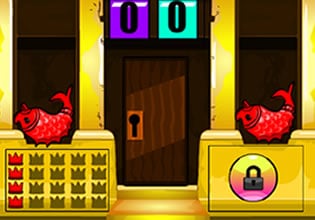 Queen Escape (Games 2 Mad)
Who knew there was actually a kingdom here in the land, but it is hidden underground though and when one sees it they will definitely be in awe of what the people who lives there have built. Despite of the place being tunnels and crevices, they were still made luxuriously, for the people there expects nothing less of their hidden kingdom. But even so their enemies have found-out where they are! And what they did then was to flee the place while the queen who governs everything stays behind in exchange for her people's safety. But her people are not going to let that just that, for as the right-hand man of the queen, Tark is now on the rescue mission and he must do this as quietly as he can.
Tark is already an expert in battle here and he also has the advantage for he knows the place very well. But he will still need some help for the enemy here outnumbers him from 1 to 100 and probably even more! Okay now escape players, want to help Tark here rescue their queen while it seems there is still a chance now?
Queen Escape is a brand new point and click underground rescue escape game released by 8b Games and Games 2 Mad.
Other games by -
Walkthrough video for Queen Escape (Games 2 Mad)